Vito Lo Re
Biography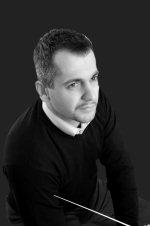 Born in Milan, he studied composition with Silvia Bianchera and Bruno Bettinelli, classical guitar with Rocco Peruggini, choral music and choir conducting with Franco Monego, graduating from the "G. Verdi" Conservatory of Music in Milan. He studied Orchestral Conducting with Massimiliano Caldi, Erwin Acel, Dejan Pavlov, Bruno Rigacci, Armando Krieger and Aldo Sisillo. He is also a graduate in Political Science.
He switches from orchestral conducting to composition, writing soundtracks for various professional theatrical companies in 15 different plays ranging from great classics to unabridged workpieces. He has also composed Chamber and Symphonic music, writing more than 90 pieces played in important Italian theatres and abroad, most of them dealing with classical guitar and devoted to Lorenzo Micheli.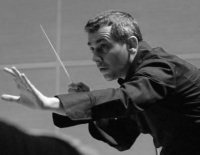 He made his debut as an opera conductor in 1997 with "La serva padrona" and "Livietta e Tracollo" (Pergolesi), followed by "Don Pasquale", "Lucrezia Borgia", "Lucia di Lammermoor" and "L'elisir d'amore" (Donizetti), "Il barbiere di Siviglia", "Il turco in Italia", "L'Italiana in Algeri" and "La scala di seta" (Rossini), "La traviata", "Nabucco", "Aida", "Il trovatore" and "Rigoletto" (Verdi), "Tosca", "Madama Butterfly", "Gianni Schicchi", "Turandot" and "La Bohème" (Puccini), "Cavalleria Rusticana" and "Pinotta" (Mascagni), "Pagliacci" (Leoncavallo), "Norma" (Bellini), "Carmen" (Bizet), "Don Giovanni" and "Le nozze di Figaro" (Mozart) and several operettas, including "The merry widow" (Lehar) and "Sì" (Mascagni) in many theatres and festivals.
He has conducted numerous symphonic and sacred works (including Mozart's, Faurè's and Verdi's Requiems). He is also known for contemporary music, with more than 20 premières to his credit. He has collaborated with many international soloists (piano, violin, viola, clarinet, oboe, flute, guitar, mandolin)
He has conducted various chamber, symphonic and lyric orchestras in Italy, Austria, Canada, Switzerland, Romania, Kazakhstan, Ucraina and Bulgaria, performing a wide range of works by more than 60 composers.
He is Artistic Director of OrchestralParts.com.
He composed the original soundtrack of the movie picture "The Girl in the fog - La Ragazza nella nebbia" and "Into the Labyrinth - L'uomo del labirinto" .